Back in September, I signed up to be an October blog angel. I had seen many posts about blog angels in my Google reader, and decided to see what all the 'buzz' was about.
How does it work? You are assigned a blogger to be an "angel" to for a month. The first half of the month, this is all done in secret through comments, tweets, notes, etc. Then, after the reveal, you get to work together with your blogger and continue to be their blogging "angel".
SO NOW FOR THE BIG REVEAL....
DRUM ROLL PLEASE....
Jessa from Life of A Sports Wife!!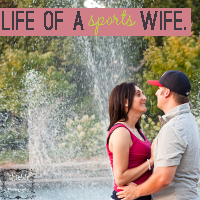 If you've never checked out Jessa's blog, stop reading this post and check it out RIGHT now (here). You won't be disappointed! Currently, she's committed to doing a 31 days of fitness challenge, and let me tell you, her posts are very encouraging. She's posted some workouts that she's tried that are awesome as well.
You'll also find posts about sports (I love that one of her goals on her leap list is to visit all the MLB and MiLB stadiums...you can see the rest of her list here), faith, books, and other topics you won't want to miss!
I'm hoping for the rest of the month of October that I can be a better blog angel to Jessa, check back at the end of the month for a blog angel update!
Meanwhile you can....
follow Life of a Sports Wife here
follow her on twitter here
follow her on pinterest here
like Life of A Sports Wife here
follow her on bloglovin' here
follow her on Hello Cotton here